United Nations Peacekeeping missions are working flat out and need to be made "stronger and safer", Secretary-General António Guterres told a major ministerial pledging conference on Friday, stressing that "critical" gaps must be bridged, so they can deliver better, on behalf of the people they serve.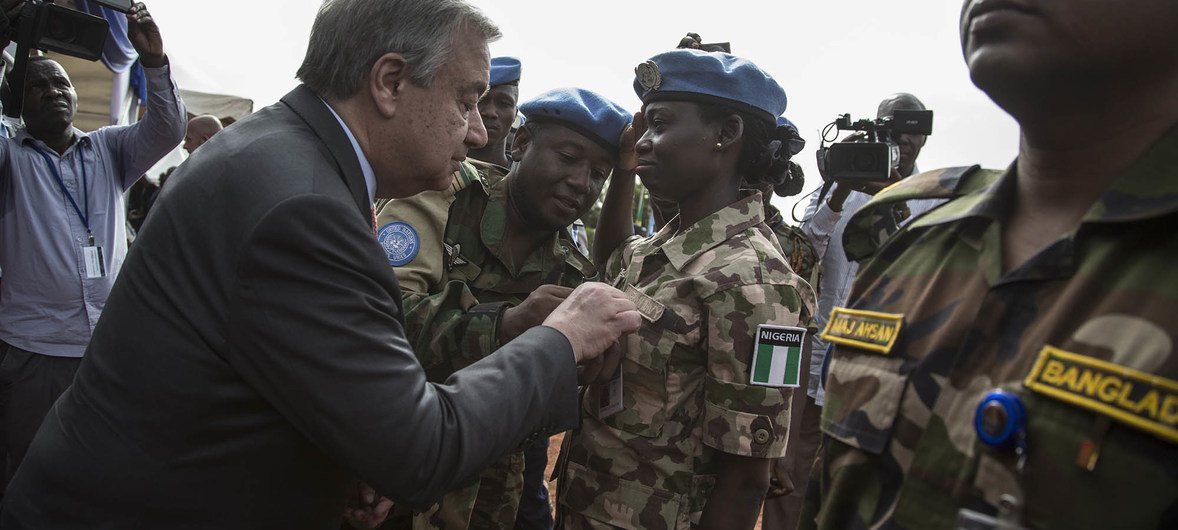 MINUSMASecretary-General António Guterres awards a medal to a peacekeeper from the Nigerian contingent of MINUSMA during the wreath-laying ceremony to honour peacekeepers killed in the line of duty, Bamako, May 2018. 29 March 2019Peace and Security
"Across the decades, our peacekeeping operations have helped countries from Liberia and Sierra Leone to Timor Leste and Cambodia, transition from conflict to peace", he said on Friday at the third key UN Peacekeeping Ministerial meeting, this time taking place at UN Headquarters in New York, to reaffirm and strengthen commitments to 'blue helmets' and others who work in peacekeeping missions across the world.
"But," he continued, "as conflicts become more complex and high-risk, our operations must keep pace".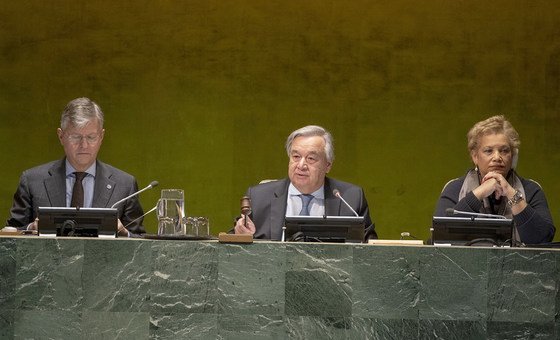 Secretary-General António Guterres opens the 2019 UN Peacekeeping Ministerial meeting to reaffirm and strengthen commitments to 'blue helmets' and others who work in peacekeeping missions across the world., by UN Photo/Cia Pak
After moment of silence for the 27 UN peacekeepers lost who lost their lives in 2018 and for "all who have died in the service of peace", he stressed that making missions stronger and safer is a key element of his Action for Peacekeeping (A4P) initiative, along with refocusing peacekeeping with more realistic expectations, and mobilizing greater support for political solutions.
The UN chief thanked the more than 150 governments that have signed the Statement of Shared Commitments so far which, among other things, encompassed advancing political solutions and improving peacekeepers' safety and security.
"We are already seeing results", said Mr. Guterres, pointing to a "significant reduction" last year in the number of peacekeepers killed, citing as examples the "more agile and more proactive" missions in the Democratic Republic of the Congo (DRC) and the Central African Republic (CAR); and "for the first time ever", verified military units on standby, which can be deployed in less than 60 days.
The Secretary-General also highlighted some "critical" gaps in UN missions that must be bridged, such as the urgent need in the Mali mission (MINUSMA), for armored personnel carriers and in CAR (MINUSCA) for 24/7 evacuation helicopters that can operate from remote areas.
Elsewhere, armed utility helicopters are needed; intelligence, surveillance and reconnaissance units; quick reaction forces, and airborne medical evacuation teams.
He urged everyone to contribute, with the assurance that "they will be utilized effectively and efficiently".
Mr. Guterres also pushed for triangular partnerships and joint contingents, in which one group of governments provides equipment and training, and another provides troops and police; training to address safety and security challenges; and better equipment and local engagement.
"Women peacekeepers and civilian staff are essential", he also stressed, flagging that the UN has "almost doubled the number of female staff officers and observers" since the November 2017 ministerial meeting in Vancouver.
However, he noted that so far this year, women account for only four per cent of military peacekeepers, indicating that he would present a new strategy to the Security Council next month to increase the numbers of female uniformed personnel.
"Only our continued strong partnership can help us advance lasting peace and protection for those we serve", concluded the Secretary-General.
'Proud to be at the helm of peacekeeping'
Taking the podium, UN peacekeeping chief Jean-Pierre Lacroix said that the more than 110 Member State participants gathered in New York, demonstrated "the deep and widespread commitment to peacekeeping, by Governments across the world".
He highlighted four priority areas to focus on "how we are fulfilling" A4P commitments, pointing first to the investment being made by the UN in solutions and developing regional peace process strategies.
Citing several examples, such as partnering with the African Union in CAR on the February peace agreement, Mr. Lacroix said that "real progress" was being made.
"We cannot achieve lasting peace without our partners" he stressed, appealing for support to political solutions and peace agreement implementation.
Explaining that missions are being reconfigured to be more mobile and proactive, he said there were critical shortfalls, including a lack of helicopters, and other key resources that must be addressed.
Thirdly, he pointed to the link between peacekeepers' performance and their security, which includes "a renewed commitment" to implementing the concrete recommendations of A4P on improving the security of 'blue helmets'.
Finally, he outlined the UN's strong commitment to increasing the number of women peacekeepers and ensuring women's full and meaningful participation in political processes.
"Increasing the number of women soldiers and police deployed to peacekeeping mission is an operational imperative", Mr. Lacroix underscored, applauding those that have recruited, trained and nominated of female peacekeepers.
The UN peacekeeping chief concluded by thanking the Member States for their "unwavering support", saying "I am proud to be at the helm of peacekeeping, pride which is mirrored in each and every one of the women and men serving."
Pledges announced at Peacekeeping Ministerial on Uniformed Capabilities, Performance and Protection
Sweden – Specialized Infantry Company to MINUSMA for 2020; a Mobile Training Team to MINUSMA and courses at the Nordic Center for Gender in Military Operations.
South Korea – Training pledges and offer to host the next Peacekeeping Ministerial meeting.
Nigeria – Quick Reaction Force, Force Protection Company, Engineer Company, Signal Company or Military Police Company.
Mexico – First ever Mexican military unit to UN peacekeeping operations (for 2020)
Guatemala – Special Forces Company.
Egypt – Intelligence, Surveillance and Reconnaissance Company for MINUSMA, Special Forces Company.
Ireland – Expand training support to other trooop contributing countries, including on first aid, disabling improvised explosive devices and mine awareness.
Norway – Specialized Police Team to MINUSMA.
Indonesia – Long-range Reconnaissance Patrol Unit for MINUSMA.
Pakistan – New units and pledges to organize a Female Military Observers Course, Counter-Improvised Explosive Device training, and other trainings.
El Salvador – Intelligence, Surveillance and Reconnaissance Aviation Unit for MINUSMA.
Rwanda – Infantry Battalion available for Rapid Deployment.