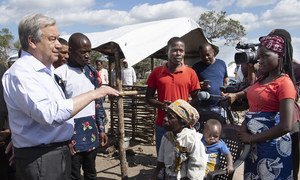 12 July 2019
Meeting schoolchildren in Mozambique's second city of Beira on Friday, UN Secretary-General António Guterres learned that the homes of nearly every student had been destroyed by cyclones.
The UN chief was on the final day of his visit to Mozambique, to see for himself the damage caused by Cyclones Kenneth and Idai, the most destructive to cross southern Africa in decades.
Mr. Guterres promised the children whose school roof was ripped off by Cyclone Idai, will be rebuilt, and to continue their studies. He also met a group of disabled survivors and declared that the UN is committed to doing everything possible to help the most vulnerable people.
He later visited the Mandruzi camp, which shelters 480 families displaced by the catastrophe and living in tents provided by UN agencies, where he told waiting media that the current situation underlines the gravity of the problem, and the need for international aid.
Read our full story here.
One month of Arctic fires equivalent to Sweden's annual emissions, says UN weather agency
The climate crisis, which has led to unusually hot and dry conditions, is amplifying the risk of wildfires, particularly in the Arctic. The news comes from the latest World Meteorological Organization (WMO) briefing, which was released on Friday.
Over 100 intense and long-lived wildfires have been tracked since the beginning of June. That month alone, the fires emitted 50 megatonnes of carbon dioxide into the atmosphere, which is equivalent to Sweden's total annual emissions.
The UN weather agency warns that, as well as the direct threat from burning, wildfires also release harmful pollutants such as particulate matter and toxic gases, such as carbon monoxide, into the atmosphere.
The WMO has produced an animation explaining some of the risks of wildfires, and what they are doing to improve forecasting, and help farmers adapt to the changing climate: